.: Runaway : A Twist of Fate :.
EUR | NDS
Editeur :
Focus
Développeur :
Cyanide
Type :
Aventure / Point&Click
Sortie France :
29 avril 2010
Classification :
Déconseillé aux - de 12 ans
Runaway : A Twist of Fate sur DS constitue le troisième chapitre des aventures de Brian Basco et Gina Timmins. Ce célèbre jeu d'aventure en point'n click se base sur des décors façon dessin animé, des personnages atypiques et des dialogues amusants. Cet épisode ne constitue pas la suite du deuxième volet mais bien une histoire à part, sans pour autant négliger les clins d'oeil et références aux opus précédents.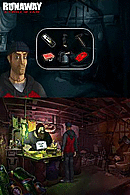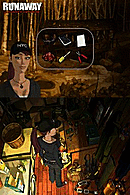 Release name : Runaway_A_Twist_of_Fate_EUR_MULTi5_NDS-EXiMiUS